SmartBook News...

[02.10.2004] SmartBook 1.0.2 has been released! Download it now!
[02.03.2004] SmartBook 1.0.1 has been released! [No Longer Available]
[02.01.2004] SmartBook 1.0 has been released! [No Longer Available]
Note that SmartBook 1.0 requires Mac OS X 10.3 or later.

SmartBook 1.0.2

Table of Contents:
- What is SmartBook?
- What is the story behind SmartBook?
- How does SmartBook work?
- Revision history ?
- What are we planning to do for the next version?
- Frequently Asked Questions...
- How you can help us...
SmartBook brings smart groups to the Apple Address Book. Smart Groups are to the Address Book what Smart Playlists are to iTunes. They allow you to have groups that update automatically according to a set of rules you can setup with SmartBook.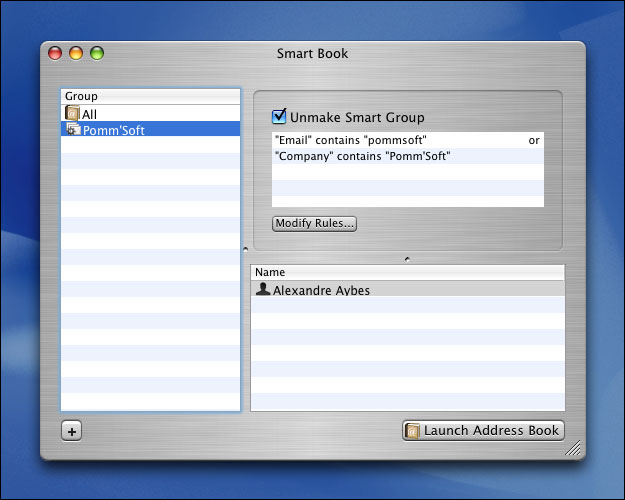 SmartBook 1.0 Main Window.
What is the story behind SmartBook?
As I was adding new contacts to my Address Book I had to add them to the different groups I have, and it went something like this: open the Address Book, search for all people whose email address contains "apple.com", select all, and drag into the "apple" group. So, recently I got tired of doing this manually, and I decided to apply what I found so cool in iTunes to the Address Book.
And a month later, SmartBook is born!
SmartBook is quite simple to use, just launch it, create a new SmartGroup, and "Modify the rules..." and you're on your way. If this is not enough you can consult the manual (accessble from the Help menu).
Version 1.0.2 (Feb 10th 2004)
- Added ability to not show the Agent in the menu bar (user request).
- Improved agent starting/stopping.
- In the rules editor: changed 'matches' to 'starts with' which reflects more appropriately the functionality.
- Italian localization! (more localizations coming soon via Check for Updates).
- Corrected a few other minor issues.

Version 1.0.1 (Feb 3rd 2004)
- Fixed a bug which caused the agent to be quit if it was running when SmartBook is launched.
- Updated contact email.

Version 1.0 (Feb 1st 2004)
- First public release.
What are we planning for the next versions?
There is a number of things we are planning for SmartBook in the future, some of those I will detail here, some others I will keep in my hat as a surprise! ;)
- More localizations (french, because we can just do it ourself, and others if you can help us).
- Plug-in architecture for the rules, so that you can develop your own, more complex rules.
- More rules, maybe even more interactions with other applications like IM clients, Mail clients, etc...
Well, this is the first release of SmartBook, so there isn't a whole lot of 'frequently asked questions', but here are a few:
- How do I make a group 'Smart'? - Simply select the group and click on the 'Make Smart Group' check box in the right pane.
- How do I add rules to a Smart Group? - Select the Smart Group and click the 'Modify rules...' button in the right pane.
- The Smart Groups aren't updated automatically, what is wrong? - In this case, make sure SmartBook Agent is running. For that just open SmartBook, open the SmartBook Preferences, and make sure the Agent is running, if not, click on the Launch Agent button.
First and most important, you should let us know what you like and maybe even dislike about SmartBook, what you would like us to add or change for the next release. And yes, we do want your feedback, and we do listen to it! Just send us an email at: info@pommsoft.com.
The other way you can help us is by donating money. We do not want to limit the functionality in SmartBook, nor do we want to spend a lot of time developing complicated registration schemes, we'd rather just add cool and useful features to the application instead. So we depend on you to help us continue our work by donating however much money you feel like, or can afford. To donate money simply click the donate button below. Thank you very much!
You are the 35302nd visitor since february 2nd 2004.
Copyright 2004 Pomm'Soft, Inc.